Hi All,
firstly, thanks for this forum, the fact that demo users cant use the official forum is pathetic.
i just downloaded the fry 1.5 demo, using it with modo 401 sp4
i'm getting a large amount of fireflies in refractive materials, a huge problem...
i let these renders go for at least an hour, but they wont dissapear.
any ideas? hopefully i'm doing something wrong.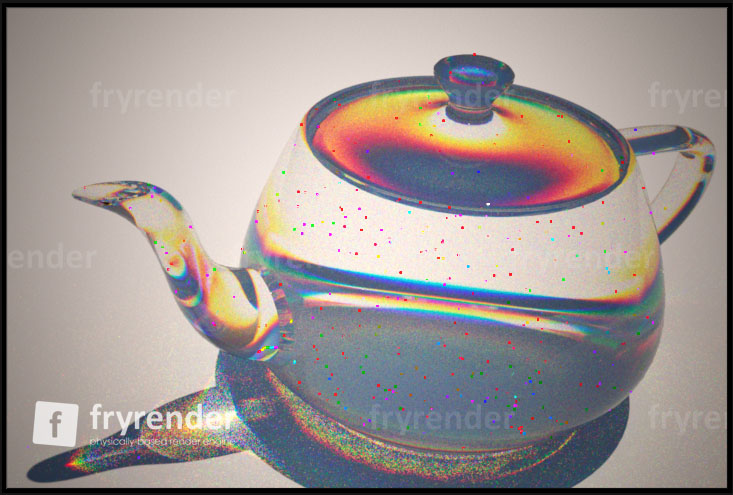 Posts

: 2


Join date

: 2010-05-15



these artifacts looks like power exceed or lighting problems.
Check your lights doné intersect with noting and dielectric material have a thin closed volume.
hey javigon,
i'm using sun/sky for lighting in both shots.. all default settings really
the teapot might not be a closed surface, but the cube most certainly is
according to fryrender staff "instead of artifacts we prefer to say 'very long to converge caustics-through-dielectrics' "
it is an actual limitation with unbiased engines




Posts

: 2


Join date

: 2010-05-15



jaja.. artifacts are artifacts!
Ok. sun + dielectrics= problems.
Actually this is a problem with a unbiased render engine. Try to not use sun. ( only sky or an emiter)
Anyway, you could send to us your scene in order to solve your problems.

It's true that with "ghost" transparency you won't get difraction but I'd like to take a view of your scene. Meanwhile you could make a test with ghost transparency.

The problem is that I'm very busy right now...Maybe in a month or so...I'm sorry very much.

Anyway, thanks for writing here.

Best regards.
Admin




Posts

: 170


Join date

: 2008-09-23


Location

: Valencia,Spain



Ghost is a "fake glass". Only must be used in simple plane without thikness

---
Permissions in this forum:
You
cannot
reply to topics in this forum