Hello This is my first post and Im glad to know there is an unofficial forum, so everybody can post about fry, like me using the demo version.
I dont wanna shoot the forum with several threads so if you let me ask a few questions I have at once Id be very greatful.
-I wonder if theres a way to save the render settings.
-Also theres a way to delete shaders and media pool content? (from the material editor)
-and maybe this precise a different thread but, what layers stand for (in the material editor) I mean, Why should I need 2 sss, or 2 dielectrics, or 2 different reflection on the same shader. I thought there was some kind of really physical approach on bbuilding the shaders too.
-and the last thing! I know dielectrics has a low IOR from 1 to up to 3, metals from 20 on. and what about rocks, matte ceramics, plaster, paper, corks, etc? I looked for them in google, but theres almost no information.
Thank you for the help, Ill be here supporting this forum.

Hola antes que nada...¡Y Bienvenido desde España!.
First of all, hello and Wellcome from Spain!
To the first question:
Yes, you can save the settings with the "save" option from the Fryrender plug-in. But for my experience you will only can save the options of the "Context" and "Blending" and the rest of this group. The options of the other group like CAM, MAT, ENV, etc...I think that can't be saved with this option. For example, the election of a camera must be decided before the exporting to a .fry file or in the opposit case you will must change each render session.

(Qué rollo, ¿verdad?)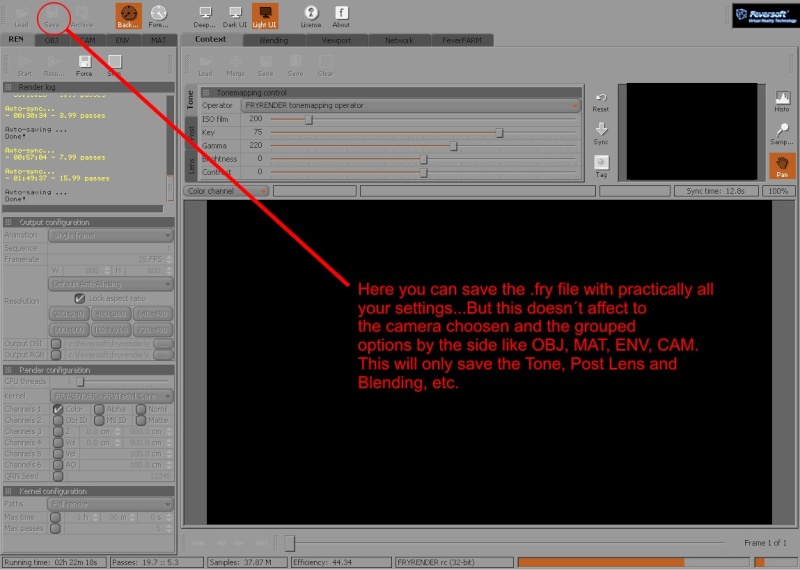 To the second question:
What material zone do you refer?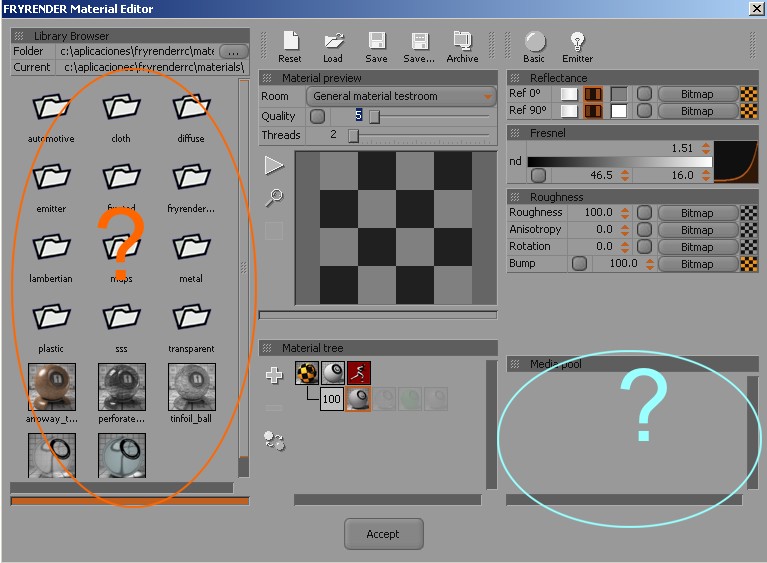 To the third question:
Could you explain a bit better your question?
To the fourth question:
I think that with the default IOR it should work but not exactly. What you must know is that with more IOR, you are approaching to a perfect mirror. You've got two references that would serve you enough to start for a good approaching.
And respect to the support: we hope you can support us too. We are all beginners in this and we help each others all what we can.
Regards.

Ooohhh que bueno saber que hay mas españoles por aqui. Tambien eres de Tenerife? Estoy empezando con este motor y me encanta su concepto de logica y sentido comun.
Thanks for the answer first!!
-Well, I suppose its a "no, it cant" (still) Im not worried at all with tone, and post lens, as its something Id do in real time, no? Also Its annoying to set camera shutter speed and iso every time I render the same scene..
-for the material editor I meant both places.
-The third one I explain in the image. I dont understand the concept behind layers, even after reading the manual. In the same way 2 dielectrics shouldnt be enabled at the same time, two reflection or two sss shouldnt as well. I dont find it physical accurate....
-Thanks for the fourth : P
Ill be posting and uploading materials as soon I get used to it.
Hi again.
Related to the material editor:
For the left part (your Q2): I suppose that if you change (or delete) the material inside your materials directory you wont see anymore the material you want to be deleted.
For the "media pool"...To tell you the truth...How can be used the media pool tool??

I've tried to drag and drop materials from my materials directory to the media pool and other tryings but...I don't know the utility and the way it works...Can you answer me to any of these questions?

As you can see...Some of us don't have all clear...Maybe mr-mégot or Stromberg or our superb (

) moderator could help us in this trouble...

Related to the layers in the materials properties:
Can you write to me a personal message in Spanish in order to understand you in a better way?

Thanks for your contribution.
Regards.
Thanks for your PM and your Spanish explanation...

The duplicates of the SSS or transparency properties in the new layers for a material I don't know how must be understood. I don't know if we should eliminate for each child layer the properties that we don't want for this new (and) child layer or we should leave as they are created by default.

And remember to choose the correct camera settings (and the election among your different cameras) because they are not saved with the save option from the plug-in.

Thanks for your posts and we hope watching your creations soon!

Regards.
Jorari: The manual says its the sum of both layers in porcentage.

Ive been also copying The shaders shown in the manual. And theres no way I get the same results. I have checked them several times but its totally different. Were they fooling the people? or is it a known issue between older versions and the new one?
If it's the addition, I
would deactivate the property copied
to the new/child layer...In some part I read that the fewer layers the fastest render times...So this wont be necessary do it too many times...
The adjustments needed to reach the material wanted are reduced every time you invest time in Fryrender. Additionally there are not many things to try knowing this few details that part of them you have discovered. I think that when you made 5 serious scenes the experience will serve you more than you think...(You probably say:"Oh yes...And where is your experience?? You haven't post anyhintg in this forum yet!!

)" Yes...It's true...

And soon you will watch one of my projects made reality...They are costing me tryings and tryings...They aren't simple scenes overall in terms of lighting...
Thanks you for your tests...You have saved us a considerable tests and waste of time. I hope I can saved you the same time in the same way.
Thank you!
Well for the media pool, it isnt for draging materials, but for maps.... say that you have a roughness map, and want to use it for bump or weight aswell. Then after you have imported the material, take the material icon and drag it into the media pool window, then it will create a shortcut for that map, so instead of browsing and importing materials, just drag it onto the map icon




Posts

: 47


Join date

: 2008-09-23





Similar topics
---
Permissions in this forum:
You
cannot
reply to topics in this forum