Hi Dude
I want to make material for glass globe like this but couldn't. please help me.

I think best strategy would be to make a blend material consisting of a glass material and a diffuse material and 'weighmap' them both.
I gave it a spin :
Sky + Sun:
material preview:
Here's the .FRY material for you to download:
LINK>>> GLASSGLOBE MATERIAL
The material consists of a 'ghost glass' (weightmapped with a B&W image of the earth) and a diffuse white color material (weightmapped with the inverted B&W image).
For more realistic results, you could also try to use a real glass instead of a ghost glass to have better refraction and caustics. Render time will be significantly higher though.
I hope this helped.
Cheers..
Last edited by Da Moderator on Mon Sep 29, 2008 11:14 pm; edited 3 times in total
Admin




Posts

: 39


Join date

: 2008-09-23



Instead of using ghost glass, I tried a 'real' dielectric glass for next image:
environment light only (.jpg background):
Admin




Posts

: 39


Join date

: 2008-09-23



very very thanks boss!
it's very helpful

Hey Moderator...You have helped us a lot.

I didn't know how to combine the opacity map and the transparency effect where there isn't opacity. I tried to achieve this result but the layers combination in the material editor is a pending task for me.

This has been a complete and hyper-fast tutorial.

I want to encourage to the rest of tusers to contribute to this section...It's really helpful. It's the 60% of a total 3D job.

Thank you very much.

Regards.
Admin




Posts

: 170


Join date

: 2008-09-23


Location

: Valencia,Spain



There is also the possibility to add a kind of label onto a dielectric ball.
1. Create a sphere with a standard glass material.
2. Duplicate the sphere + 1mm bigger radius and apply a material with the b/w earthmap in the opacity slot.
Choose the color and roughness in the REF0/90 Slots to your taste.
Kwistenbiebel, i see in your render some inteferences (upper part at cuba and the keys

) which looks like a bit strange.
So, propably the label workaround might be a better one.
zampo



Posts

: 3


Join date

: 2008-09-24



Many nice solutions here

So i might as well post mine

What i did is use the BW map, in the roughness slot and inverted it.



Posts

: 47


Join date

: 2008-09-23



hi zampano
about 3 weeks ago i had use your method but i hadn't scale up the second ball and the result is here: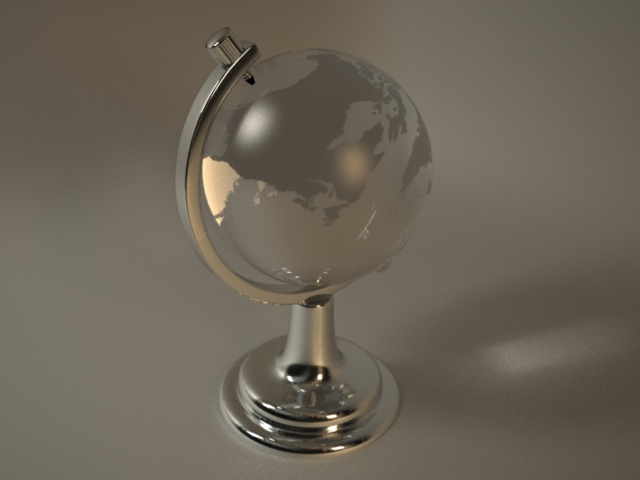 Maxtonian wrote:hi zampano

about 3 weeks ago i had use your method but i hadn't scale up the second ball and the result is here:
Well, try to scale it up Maxtonian

Another cool attempt Stromberg




Posts

: 3


Join date

: 2008-09-24





Similar topics
---
Permissions in this forum:
You
cannot
reply to topics in this forum